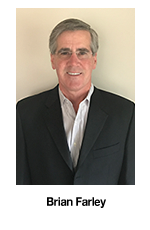 Brian Farley has over 30 years of experience in the medical device and healthcare industry. During his career, companies led by Mr. Farley developed multiple pioneering medical technologies, completed two successful IPOs and built high functioning technical and commercial organizations. These companies produced highly efficacious medical products that resulted in the treatment of millions of patients while also delivering shareholder value totaling approximately $1.0 billion.
Most recently, Mr. Farley was the CEO of Entellus Medical Inc. (ENTL: Nasdaq) from 2010 until 2015 and has been a member of the Entellus board of directors since 2008, including as Chairman of the Board since 2014. Entellus Medical develops and markets to ENT physicians devices to treat chronic sinusitis and nasal obstruction, and is the market leader for office-based sinus surgery. As CEO, Mr. Farley led Entellus through a successful IPO in January 2015 until a planned retirement in mid-2015 to attend to his wife's chronic medical needs.
Prior to joining Entellus, Mr. Farley was employed at VNUS Medical Technologies, Inc. (VNUS: Nasdaq) starting in 1995 as the first employee, and served as President and CEO of VNUS until June 2009 when VNUS was sold to Covidien Ltd. VNUS Medical pioneered a minimally invasive treatment for venous insufficiency that employed radiofrequency ablation of the saphenous vein. The VNUS procedure has been performed in over two million patients around the world.
Since 2009, Mr. Farley has served as a director of Neuronetics, Inc., a private medical device company where he is on the compensation committee, and is Chairman of the Board. Neuronetics is the market leader in transcranial magnetic stimulation for patients with treatment-resistant depression and has facilitated over one million treatments. Since early 2017, Mr. Farley has served on the board of directors of Neurolutions Inc., a private medical device company in the field of post-stroke rehabilitation. Previously, Mr. Farley was a Director and member of the compensation committee of DFINE Inc., a private medical device company treating vertebral compression fractures and metastatic spinal tumors from 2012 until it was sold to Merit Medical in 2016.
Mr. Farley was employed from 1981 to 1995 at Guidant Corporation, in the Medical Device Division of Eli Lilly and Company, and in Lilly Research Labs in a variety of research and development, clinical research and business development leadership positions. During his career, Mr. Farley has led organizations involved in the development of coronary stents, atherectomy devices, drug-eluting stents, electronic medical instruments, balloon catheters, surgical devices, and legal IP matters. He has guided three new technologies through a reimbursement process including pivotal randomized trials, establishment of new CPT codes, obtainment of broad insurance coverage, and securing appropriate payment for treatment in both the physician office and operating room. Mr. Farley holds both a B.S. in Engineering with an emphasis in Biomedical Engineering and an M.S. in Electrical Engineering from Purdue University.