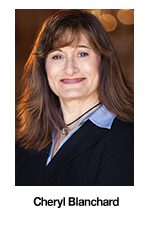 Dr. Cheryl R. Blanchard is President and CEO of Keratin Biosciences, Inc., a developer of skin, regenerative medicine and drug delivery products. Dr. Blanchard also serves on a number of public, private equity and venture backed company boards including Anika Therapeutics and Ceramtec.
Prior to that, she was the Senior Vice President, Chief Scientific Officer and General Manager of Biologics at Zimmer, Inc. in Warsaw, IN, responsible for Global R and D, Quality, Regulatory and Clinical Affairs, Health Economics and the Regenerative Medicine Business.
Previous to Zimmer, Blanchard built and led the medical device practice at Southwest Research Institute while also serving as an adjunct professor at the University of Texas Health Science Center, both in San Antonio, TX.
She holds a B.S in Ceramic Engineering from Alfred University and an M.S. and Ph.D. in Materials Science and Engineering from the University of Texas at Austin. She is a member of the National Academy of Engineering.