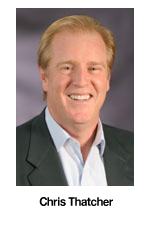 President and CEO of Neuronetics, Chris Thatcher leads the pioneer and innovator in Transcranial Magnetic Stimulation therapy to treat Major Depressive Disorder.
Neuronetics is focused on successfully developing and commercializing non-invasive therapies to treat chronic psychiatric and neurological disorders. Neuronetics is the market leader in TMS with the NeuroStar TMS Therapy System for major depression. Over 45,000 patients have been treated with NeuroStar at notable psychiatric hospitals and institutions, as well as private practices across the country. Backed by the largest clinical data set of any TMS treatment for depression, NeuroStar TMS Therapy is proven effective for patients who have not benefited from prior antidepressant medication, and NeuroStar is the only TMS device to have demonstrated long-term durability of clinical effect over 12 months. Chris is based at Neuronetics Global Headquarters in Malvern, PA and was appointed to his current role in December 2014.
Prior to joining Neuronetics, Chris held a variety of global general management positions in Ophthalmology and Neurosurgery. Chris is passionate about his roles in healthcare "perfecting vision and enhancing life" at the eye care giant Bausch and Lomb, leading their Global Cataract and Vitreoretinal business and "allowing people to see another day and participate in life" as the President of Integra's Neurosurgery business, the world leader in Neurological tumor resections. Chris has been leading medical device companies for over 20 years and has extensive experience in building and leading teams, establishing new products, commercial strategies and growing businesses.
He graduated from Lafayette College where he captained their football team and was subsequently drafted in 1987 by the Cincinnati Bengals of the National Football League. Most of Chris' leisure time is devoted to his three 15 year old children, rooting for them at softball, field hockey and lacrosse games. Time for himself is spent training for a new athletic endeavor, Olympic Triathlons.