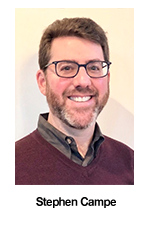 Stephen M. Campe has served as a member of the Board of Directors of Neuronetics, Inc. since 2013.
Steve is Managing Director and Senior Advisor to Patricia Industries, the wholly-owned private equity and venture capital subsidiary of Investor AB. Steve joined Investor in 1998 as Managing Director and head of the healthcare investing team, and served as President of Investor Growth Capital from 2008 – 2015 with responsibility for Investor's global venture capital activities. Steve has been an active, healthcare investor for 20 years, and focuses his investing activities primarily on medical technology including therapeutic, surgical and diagnostic devices. Steve has served on the Boards of numerous healthcare and technology companies.
Previously, Steve was a consultant at McKinsey & Company where he managed corporate finance and strategy engagements for several diversified healthcare companies, and was an investment banker specializing in mergers and acquisitions.
Steve earned a B.A. in Systems Science Engineering and a B.S. in Economics from the University of Pennsylvania, as well as an M.B.A. from Yale University.