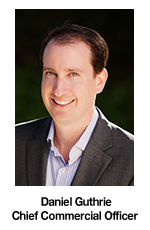 Daniel Guthrie has served as Chief Commercial Officer since May 2018. Prior to joining Neuronetics, Mr. Guthrie was Vice President of Commercialization at JADAK, a business unit of Novanta Inc., from January 2017 to April 2018. Before joining JADAK, Mr. Guthrie was a General Manager at Zimmer Biomet Holdings Inc. from August 2011 to December 2016, where, among other roles, he led the Asia Pacific business for the company's dental implant division and regenerative therapies group.

Mr. Guthrie was a Director of Franchise Marketing for BioSurgery from May 2008 to August 2011 and a Director of Global Product Marketing from May 2005 to July 2008 at Medtronic PLC (formerly Covidien Ltd.), where he worked in the surgical solutions and patient care and safety business units. Prior to Medtronic, Mr. Guthrie was Regional Sales and Marketing Manager, Asia at Fleet Laboratories from May 2000 to December 2004.

Mr. Guthrie earned his bachelor's degree in finance and marketing from American University and his MBA from Southern Illinois University at Carbondale.