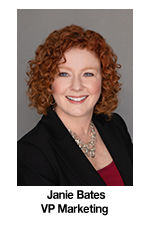 Janie Bates has served as the Company's Vice President of Marketing since July 2019.
Ms. Bates has over 30 years of marketing leadership experience in medical device and consumer package goods industries. Prior to joining Neuronetics, she led Smith & Nephew's Value Solutions business as the Vice President and General Manager from November 2017 to April 2019. Previous to that, Ms. Bates was Sr. Director of Global Marketing for the Kyphon business at Medtronic from February 2015 to November 2017. From April 2012 to February 2015, she provided strategic marketing consulting to start-up medical device companies.
In addition, from January 2010 to April 2012, Ms. Bates held the position of Chief Marketing Officer and VP of Innovation for Evergreen Packaging, a $1.7 billion company providing high-tech barrier packaging to the CPG industry. She also spent 10 years in various roles at Smith & Nephew, including Vice President of Marketing for medical therapies delivered in an office-based setting (now Bioventus). Her additional marketing leadership experience includes positions at Kraft Foods and Jimmy Dean Foods.
Ms. Bates has an MBA from the Anderson School at University of California Los Angeles and a BA in Economics from Dartmouth College.