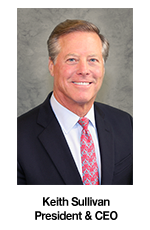 Mr. Sullivan most recently served as Chief Commercial Officer and President (North America) of ZELTIQ Aesthetics, Inc., a medical technology company focused on developing and commercializing products utilizing its proprietary controlled-cooling technology platform under the Coolsculpting® brand, from January 2016 until the acquisition of ZELTIQ by Allergan, Inc. in April 2017. Mr. Sullivan previously served as Senior Vice President and Chief Commercial Officer of ZELTIQ from November 2014 until January 2016 and as Senior Vice President of Worldwide Sales and Marketing from July 2013 through October 2014.
Mr. Sullivan, who has more than 30 years of senior sales leadership experience in the medical device industry, has previously held leadership positions with Medicis Pharmaceuticals, Reliant Technologies, Medtronic, Vision Quest Laser Center and Coherent Medical.
Mr. Sullivan received a Bachelor of Business Administration from the College of William and Mary and is a clinical professor in the Mason School of Business at William and Mary. Mr. Sullivan currently serves on the Boards of Directors of Sientra, Inc. and Venus Concept.