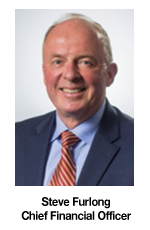 Mr. Furlong has served as the Company's Vice President and Chief Financial Officer since July 2019. Prior to joining the company, Mr. Furlong worked at Metabolon, a private life science company in metabolomics, a phenotyping technology for advancing biomarker discovery, diagnostic testing and precision medicine, from November 2017 to July 2019, where he most recently served as Senior Vice President of Finance and Corporate Secretary.
Prior to joining Metabolon, Mr. Furlong was Vice President Finance at Verscend Technologies from February 2017 to June 2017. From April 2015 to September 2016, Mr. Furlong served as Chief Financial Officer of Rapid Micro Biosystems, which manufactures and distributes products for detection of microbial contamination. Before joining Rapid Micro Biosystems, Mr. Furlong spent 14 years at Hologic, a publicly-traded medical technology company, where he held a number of roles of increasing responsibilities, most recently Senior Vice President, Finance and Sales Administration.
Prior to his experience at Hologic, Mr. Furlong held positions at Safety 1st, Stratus Computer Inc., and Raytheon Company. Mr. Furlong received his B.A. in Political Science from The Pennsylvania State University and his Master of Finance degree from Bentley University.