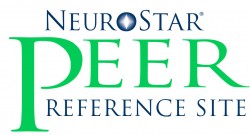 NeuroStar® Peer Reference Sites were created for the purpose of peer-to-peer education. They are selected and qualified to provide new or prospective NeuroStar customers with expert information on building a successful clinical practice with NeuroStar TMS Therapy®. Visits will take place at these qualified sites.
Topics that may be covered during a site visit include:
Setup and management of the NeuroStar TMS System
Identification of a TMS patient
Review of an effective patient consultation
Discussion of the cost of NeuroStar TMS Therapy with patients
Training of your staff about NeuroStar TMS Therapy
Key strategies for marketing NeuroStar TMS Therapy to referring physicians and patients
Contact Neuronetics Customer Service at 1-877-600-7555 to schedule a Peer Reference Site visit.