NeuroStar TMS Outcomes Registry
The NeuroStar TMS Outcomes Registry has evaluable data on over 6200 patients since being initiated in Sept 2016, making it the largest data set in Major Depressive Disorder.
In these real-world outcomes, by clinician rating (CGI-S) 74% of patients respond to an acute course of NeuroStar, and 52% achieve remission.
On a patient rated scale (PHQ-9) 62% of patients achieved response and 33% achieved remission with an acute course of NeuroStar.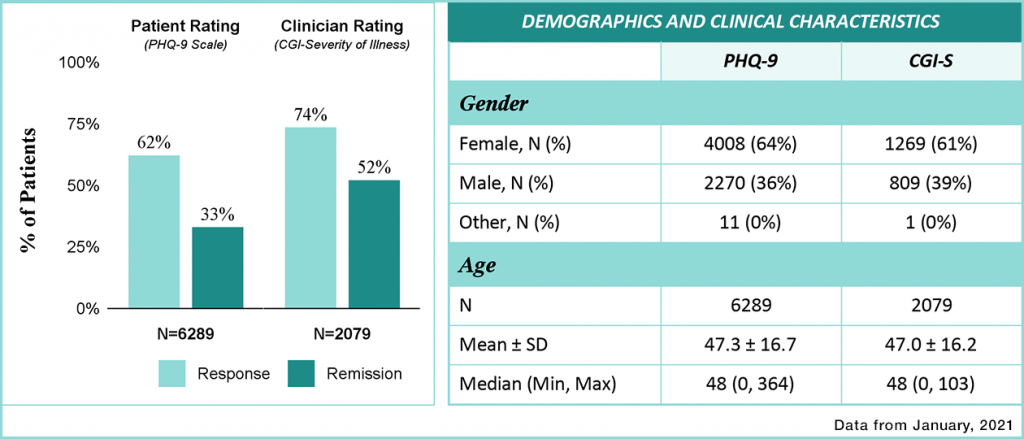 The NeuroStar TrakStar data management system makes automated large-scale data collection feasible.
These treatment outcomes are consistent with NeuroStar open-label study data5.
NeuroStar® Advanced Therapy has shown high-maintained response rates and remission rates. It has been widely researched with clinical data in more than 1,000 patients over 15 studies.1 This includes:
Results in 27 publications
2 randomized, controlled trials
1 large real-world trial
12-month durability data
NeuroStar is the only system with acute treatment response and remission for over 1 year.19 Additionally, clinical studies showed a low discontinuation rate of only 5%.6,7
Have a representative contact you to learn how you can become part of a growing community of providers who are demonstrating real-world success. NeuroStar has been used on more than 97,000 patients across more than 4 million treatment sessions. There are more than 1,100 systems installed across the United States with thousands of trained physicians and clinicians providing therapy.
Hear from physicians and patients who've experienced success with NeuroStar