After first-line treatment attempts with antidepressant medication, patients are often forced to pursue more pharmacotherapy. Few depression treatment options have been studied and approved by the FDA for use in patients who have not benefited from prior antidepressant treatment.
Results from the STAR*D Study
The likelihood of achieving remission is limited and declines with each successive treatment attempt12,13,14,15
TMS—An Appropriate Option for Depression Treatment3
In the 3rd edition of Practice Guideline for the Treatment of Patients with Major Depression (2010), the American Psychiatric Association (APA) cited TMS as an appropriate treatment option for depression patients who have not benefited from initial antidepressant pharmacotherapy.
---
APA Depression Practice Guidelines options for the treatment of depression3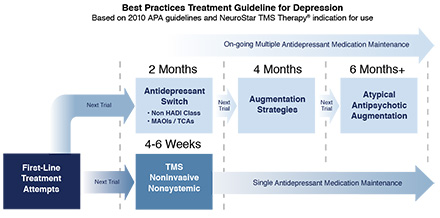 ---
Several other organizations have also acknowledged the scientific evidence for the safety and efficacy of TMS, including:
The World Federation of Societies for Biological Psychiatry (2009)
The Canadian Network for Mood and Anxiety Treatments (2009)
Find out who may be an appropriate candidate for NeuroStar TMS Therapy®
View a video on the benefits of TMS Therapy
NeuroStar® Efficacy