Free Consultation
Impireum Psychiatric Group
Opening hours
Wednesday
9:00 am
5:00 pm
During major holidays hours may vary. Please contact the practice for current availability.
Payments Accepted
Cash, Credit Cards, In Office Finance
Insurance Accepted
Aetna
Health Care Service Corporation (HCSC) for BCBS of Texas
Cigna
United Healthcare
Tricare
NSU Certified
NeuroStar University (NSU) is a two day fully-immersive, experiental training course for NeuroStar practices. Practices learn how to obtain the best clinical outcomes so that patients reach remission with NeuroStar TMS.
Stellar Distinctions Program

Stellar Distinctions levels reflect the number of NeuroStar treatments during the previous 12 months, ranging from fewest (Bronze) to most (Diamond). The levels are not intended to reflect quality or skill level and are not to be viewed as an endorsement or recommendation of any provider.

Medical Staff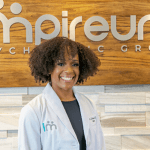 Dr. Nadia A. McFarlane
Medical Director
View Bio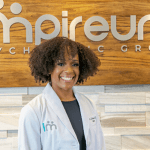 Dr. Nadia A. McFarlane
Medical Director
Education
Dr. Nadia A. McFarlane earned a degree in psychology from the University of Pennsylvania and a medical degree at the State University of New York at Buffalo.
Associations
She is a member of the American Academy of Child and Adolescent Psychiatry and the American Psychiatric Association