Your copy of 3,000 Pulses Later: My TMS Journey will be mailed to you within 7-10 business days.
Did you know…
There may be a licensed NeuroStar TMS Therapy® provider in your area. Enter your zip code in the Physician Locator to the right, and find a provider in your area.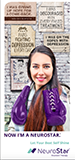 Remission from depression is possible.
Find out if NeuroStar TMS Therapy is right for you »

Return to homepage »