NeuroStar® Advanced Therapy Outcomes Registry
Only the NeuroStar® Advanced Therapy Outcomes Registry has data on over 16,500 patients since being initiated in September 2016, making it the largest data set in major depressive disorder. This data is from 118 NeuroStar practice sites.2,6,22
In these real-world outcomes**, by clinician rating (CGI-S) 83% of patients responded to an acute course of NeuroStar, and 62% achieved remission.5,22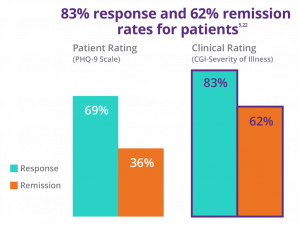 NeuroStar® Advanced Therapy for Mental Health is the only TMS treatment with demonstrated durability in depression*** through 1 year.8,11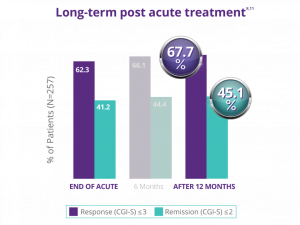 NeuroStar is proven in scientific publications and presentations. Click here for links to publications related to the efficacy of NeuroStar Advanced Therapy.
Significant response was maintained 12 months after acute depression treatment.8,11
In a naturalistic clinical study in 257 patients who did not benefit from antidepressant medications, NeuroStar Advanced Therapy offered durable effect over 1 year*** following acute treatment:
36.2% of patients received NeuroStar Advanced Therapy reintroduction (average of 16 treatments). Long-term durability of effect has not been established in a randomized trial. Trial design used physician-directed standard of care.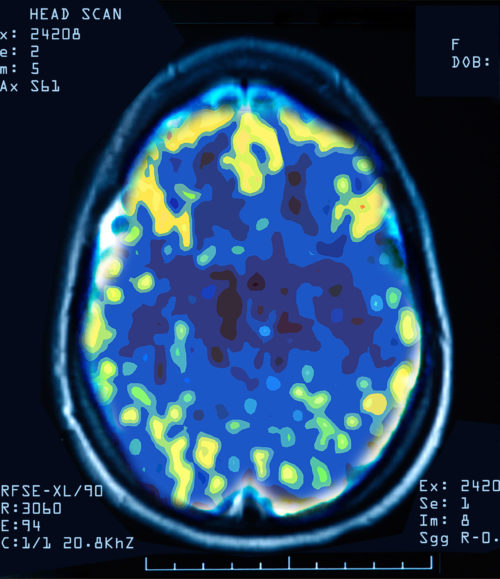 Clinical results demonstrated an improvement in depression symptoms.
In an NIMH-funded, independent, randomized, controlled trial, patients treated with NeuroStar Advanced Therapy were four times more likely to achieve remission compared to patients receiving sham treatment (P=0.0173; odds ratio=4.05).11
Significant improvement from baseline with NeuroStar Advanced Therapy was observed as early as 2 weeks after treatment and at 4 and 6 weeks (P=0.0006).4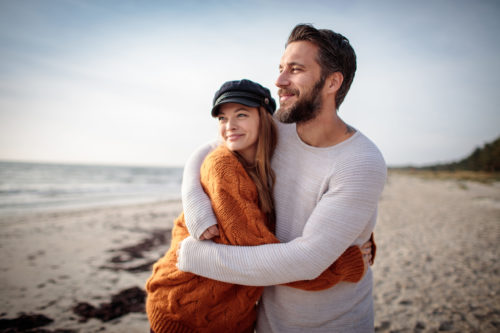 NeuroStar is backed by the largest clinical data set in depression of any TMS system.2
Two multisite, randomized, controlled trials demonstrated the clinically significant antidepressant effect of NeuroStar Advanced Therapy.11,19
Two open-label extension studies demonstrated similar benefit.4,17
One prospective, naturalistic study confirmed results in real-world practice.5
Two open-label, long-term, follow-up studies were conducted.13,16
Other Studies Using NeuroStar/Neuronetics Devices
NeuroStar's commitment to advancing the science of TMS and neurohealth has been demonstrated in over 65 investigator-initiated clinical studies with more than 1,900 patients.
If you are interested in conducting an Investigator Initiated Trial, please contact Neuronetics Customer Service at 877-600-7555 (option 3).
Ready to Learn More?
Contact a NeuroStar representative today to learn how you can become part of a growing community of NeuroStar practices demonstrating real-world success.
Contact A Rep