NeuroStar TMS Therapy consistently demonstrated significant response and remission rates across a broad range of treatment resistant patients6:
1 in 2 patients responded
1 in 3 patients achieved complete remission of symptoms
Backed by the largest clinical data set of any TMS Therapy in depression spanning 7 studies with 800 patients:
NeuroStar TMS Therapy offers:
Clinical results: Improvement in depression symptoms
In an NIMH-funded, independent, randomized controlled trial, patients treated with TMS using the NeuroStar TMS System, were four times more likely to achieve remission compared to patients receiving sham treatment (P = 0.0173; odds ratio = 4.05).6
Statistical significance in favor of active NeuroStar TMS Therapy was observed as early as 2 weeks after treatment and at 4 and 6 weeks (P=0.0006)5
---
Clinical results: Consistent Response and Remission Rates Across a Broad Range of Treatment Resistance
Patients treated with NeuroStar TMS Therapy experienced significant benefits after 4 to 6 weeks of treatment6:
CGI-S Outcomes in Acute Phase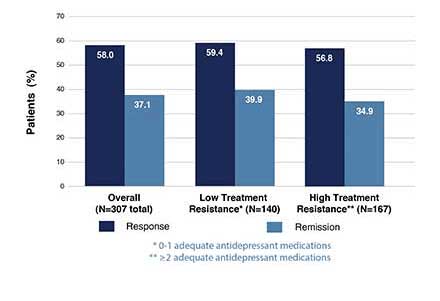 An open-label, multicenter study including 307 (acute phase) evaluable unipolar, non-psychotic MDD patients in post-market use were evaluated after treatment with NeuroStar TMS Therapy.
The Only TMS System with
Durability Established Over 12 Months20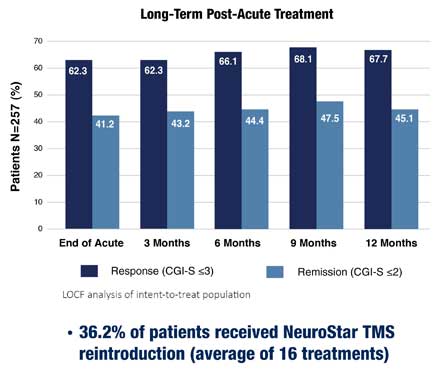 Long-term durability of effect has not been established in a randomized trial. Trial design used physician directed standard of care.
---
View NeuroStar TMS Therapy Safety Data
Ongoing NeuroStar® Clinical Trials
Neuronetics continues to support clinical trial programs. The following are sponsored by Neuronetics:
Postpartum study – TMS Therapy is already approved for Major Depressive Disorder. This study will focus on understanding the response in women suffering from postpartum depression. This study is currently enrolling patients who are:

Female 18 to 50
Diagnosed with major depression within 6 months of childbirth
For more information, contact Customer Service at 1-877-600-7555 (opt 3) or visit clinicaltrials.gov, for study NCT01842542.
Other studies using NeuroStar/Neuronetics devices
To learn more about clinical trials or search for other TMS studies, please visit clinicaltrials.gov.
If you are interested in conducting an Investigator Initiated Trial, please contact Neuronetics Customer Service at 1-877-600-7555 (opt 3).
Learn about the safety and patient tolerability profile