A Clinically Proven Solution
With more than 5.9 million treatments delivered, over 162,000 patients treated, and 1,100 practices across the U.S., NeuroStar® Advanced Therapy is the market leader in clinical practice.
NeuroStar clinical studies have shown a low discontinuation rate of only 5%.9,15
NeuroStar has the world's largest depression Outcomes Registry**. By clinician rating, 83% of patients responded to an acute course of NeuroStar, and 62% achieved remission.3,18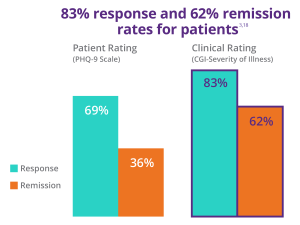 "These findings further emphasize the very real impact NeuroStar can have for people who are searching for depression relief now. We're grateful for our NeuroStar providers who work tirelessly to transform the lives of their patients."
NeuroStar is backed by an unmatched body of clinical evidence. Our commitment to advancing the science of TMS and neurohealth has been demonstrated in over 65 clinical studies with more than 1,900 patients.
For more information on Neuronetics' proven NeuroStar solution, contact us today.
Contact Neuronetics