Helping People with Depression Find Treatment that Works
The medical industry has traditionally relied on pharmaceuticals as the first line of treatment for major depressive disorder. Three out of five people with MDD, however, are underserved by their antidepressant medications or have not found a medication that offers lasting remission.8,11,22 Neuronetics' goal is to help these people achieve lasting neurohealth and live better lives.6,9
Limitations of Antidepressant Medications
The largest prospective clinical trial of MDD ever conducted, the STAR*D study showed that treatment resistance causes a patient's chance for remission to decrease with each subsequent medication attempt.7,14,17,19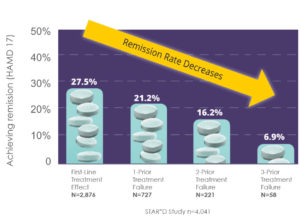 The STAR*D study also showed that discontinuation of medications due to side effects increases with each treatment attempt.7,14,17,19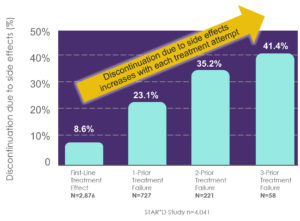 "We're laser-focused on driving clinical innovation to ensure that the millions suffering from depression and other conditions have access to the treatments and support they need."
67% of MDD Patients are Unhappy with Their Current Treatment!
Based on a recent market research study of 500 patients diagnosed with depression, Neuronetics found that 67% of patients with MDD are not happy with their current treatment and quality of life, and are actively searching for new treatment solutions.1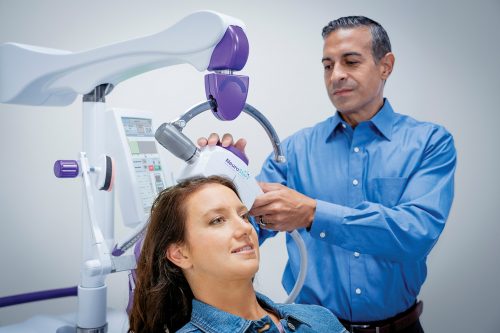 Neuronetics cares about helping these people get better. We designed NeuroStar® Advanced Therapy for Mental Health as a non-invasive therapeutic alternative for people who suffer from MDD and to address many of the key limitations of existing treatment options. NeuroStar provides our customers and their patients with clinically demonstrated response and remission rates with durable results, a demonstrated safety profile with limited side effects, and high patient adherence.6,9,10 Only NeuroStar also provides a precise, reproducible office-based therapy that is efficient and convenient.
For more information on Neuronetics and NeuroStar Advanced Therapy, contact us today.
Contact Neuronetics